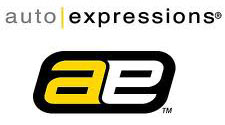 Auto Expressions® is the brand for auto care products. Auto Expressions®, also known as "AE™", is a branded line of quality automotive air care and accessories products, available in the auto section of many major retail chains around the world. The Auto Expressions® name appears on a wide variety of consumer car-care products that include air fresheners, seat covers, sunshades, steering wheel covers, floor mats, organizers, and more. Many of these same popular products were widely available under the Axius® and MEDO® brand names for years, and in 2004, it is combineded under the Auto Expressions® brand.
AE's diverse line of functional, stylish, high quality products is united by a single goal: to "Create Your Own Ride.™". Our products fill the desire of many drivers who want to take charge of their car's comfort and appearance to give it a fresher or more unique, individual style. American drivers spend a tremendous amount of time in their cars, and AE's innovative products allow them to put as much attention and individualism into that car as they would into their home.
Auto Expressions® Air Care products come in a variety of formats (such as vent attachable; hanging paper or novelty; spray; hide-able) and in over 60 fragrance options, so there's a solution to meet almost everyone's aroma needs.
AE designs fit-dependent products – seat covers, sunshades, steering wheel covers, and floor mats – so that one or two sizes can be easily adapted to most vehicles. Historically, these products were geared towards a "once-every-five-years" purchase for car maintenance, but now, our products are inexpensive enough to allow for a change whenever the mood strikes.
Auto Expressions® products are sold by Auto Expressions, LLC, which is an affiliate of Kraco Enterprises, LLC.
For more details logon to http://www.autoexpressions.in