VIPSEAL Tyre Sealant
---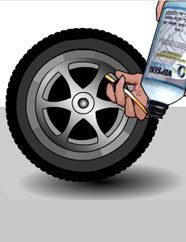 Vipseal has been a pioneer in Tyre sealant technology since 1998.

It is manufactured in Europe - The Hub of All Automotive Leaders and is available in more than 38 countries. In India, we introduced it in 2010 and are currently market leaders in Indian Tyre Sealant Industry.

It reduces and prevents the No.1 danger: Loss of Air pressure in tyres. It is an environmental friendly product which prevents and protects a tyre from punctures, throughout its entire lifespan.
Consequently, VIPSEAL increases the life of the tyre and reduces the fuel consumption while letting one drive without worry. It is divided into 3 different quality products corresponding to separate applications.
For more info, please visit our technical website www.vipsealindia.com