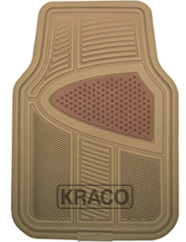 Kraco is the U.S. market leader in floor mats for last decade having approx 67% market share, with a wide range of automotive and home floor mats available.

These come in rubber, carpet and rubber/carpet combinations, as well as in different quality levels.

They have have a 500,000 sq. ft. manufacturing facility where they turn out all kinds of universal fit carpeted and rubber floor mats for your car or truck.
For more info, please visit http://autoexpressions.in/autoex/kr-floormats.php